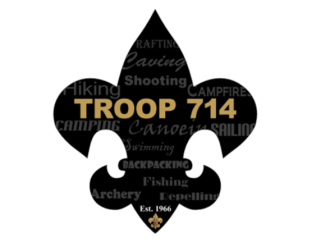 Mountain View UMC is proud to be the charter organization for Troop 714. We're thankful for their presence and their willingness to always step up and help. While several of our church members have grown up in Troop 714, it is not a requirement to attend Mountain View.
Troop 714 has been going strong since 1966! In 1987, the troop moved to Mountain View United Methodist Church. The troop's first Eagle Scout was recognized in 1975. The troop proudly proclaims that as of 2018, they have added almost 150 additional Eagles to that roster. In fact, you will see several Eagle Scout projects found around the Mountain View grounds!
Today the troop is about 60 members strong and growing through the addition of members from Cub Scout Packs soon to join the family. The growth is nurtured through the dedication of the 40+ adult leaders of the troop who work tirelessly to help the boys have a memorable experience of learning through respect and fellowship.
The troop is very active with troop meetings Monday evenings at 7pm. The boys enjoy the outdoors through activities like camping, hiking, backpacking, and canoeing. These activities range from the patrol level to those organized by the district and council.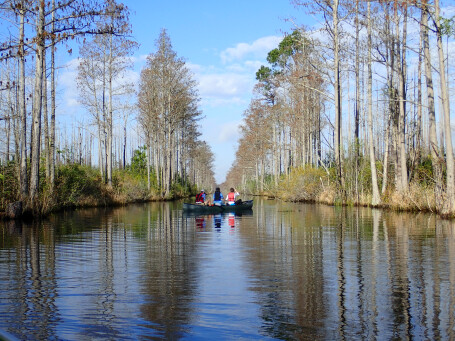 Okefenokee Canoeing Trip - February 2019
Troop 714 supports the Mountain View UMC charter organization through service and fellowship. Some projects include: Bethlehem Walk, summer lunch program, collecting food for the Scouting for Food campaign, and the annual Scout Sunday celebration!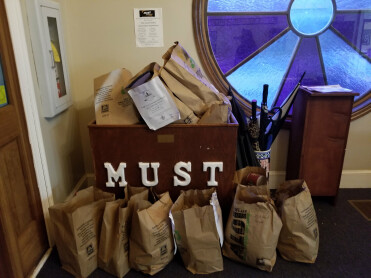 Scouting for Food Project
Boy Scout Troop 714 - www.troop714.org
Meets weekly, Monday at 7pm
Location - MVUMC
Contact - Scoutmaster Adrian Fryer,
Venture Crew 11 - www.crew11.org
Meets 2nd & 4th Sunday at 3pm
Location - MVUMC
Contact - Advisor, Matthew Sulhoff,
Cub Scout Pack 1714 - www.pack1714.com
Meets 3rd Thursday of the month at 7pm
Location - Mountain View Elementary School
Contact - Cubmaster, Todd Angel,