Bethlehem Walk 2021 Dates:
Saturday, December 4 from 7:00-9:00 pm.
Sunday, December 5 from 7:00-9:00 pm.
Monday, December 6 from 9:30-11:30 am for preschoolers by appointment only and from 7:00-9:00 pm for the public.
*If you would like to volunteer, please contact Cindy Thorne at .
Bethlehem Walk 2020 Goes Virtual!
Since 1992, Bethlehem Walk at Mountain View United Methodist Church attracts thousands of visitors each year to experience this live, interactive recreation of the Christmas story. Due to COVID-19, for the health and safety of our visitors, cast, and crew, we decided to do a virtual tour of Bethlehem Walk. In the short span of two hectic months, with God's help, we completed this task! We present this 2020 "virtual" production of Bethlehem Walk.
We dedicate this video production to Becky Greene. Without her vision and leadership, this ministry would not have been possible. Please enjoy our humble efforts to recreate the essence of this long-time ministry. Merry Christmas and God bless!
---
Each year since 1992, Mountain View UMC in Marietta, GA has presented this interactive event to the community. You can walk through the streets of Bethlehem and haggle with the shopkeepers, sign the census and pay your taxes to Caesar Augustus's tax collector. You can also sample the fine dried fruits, enjoy a tasty cup of hot apple cider, and try out the freshly made samples of bread at the bakery. At the end of your journey you will find God's most precious gift. His newborn son will be wrapped in swaddling clothes and found in the stable on the edge of town.
The entire event is free. We do accept donations but that is up to each traveler's own decision.
Beautiful production with scenes from Bethlehem Walk. Enjoy!
---
Following the walk, enter the sanctuary and enjoy some quiet time or music.
---
---
Important Facts to Know BEFORE You Go:
Nothing is for sale in the city
All shopkeepers and citizens are volunteers.
Lost parents should report to synagogue or storyteller's booth to be reunited with their children.
Pictures are allowed.
Only service dogs are welcome.
The hot cider is HOT.
Handicap parking is available.
Large groups should call 770-928-0050 for van and bus parking or email
Restrooms are available.
Comments and Prayer Requests are welcome.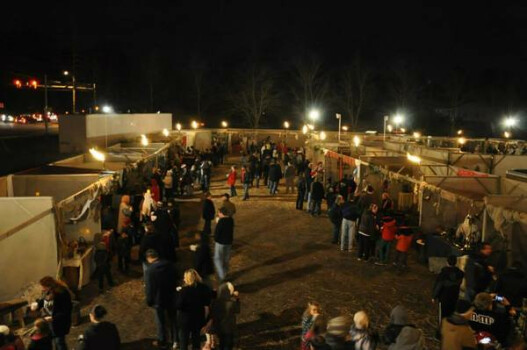 ---
Would You Like to Help?
Pray
This ministry is an outreach and needs prayers for provision, safety, good weather, willing workers, and people to come hear the Good News.
Promote
Take cards with you to share with friends. Share information with your friends on Facebook , Instagram, and Twitter Handout cards about our ministry. If you have Bethlehem Walk shirts wear them during November and December.
Participate
There are many roles where you can participate in Bethlehem Walk. Below is brief description of the needs for each area and forms if you would like to sign-up to volunteer or reserve your groups time for the Friday Morning Performance, if you would like detailed information on the volunteer areas click the more info button below.
We welcome your involvement! Cast, Crew & Volunteer Registration: please contact Cindy Thorne at .
Volunteer positions:
Shopkeepers
Construction
Sanctuary
Kitchen
Roman Soldiers
Support Crew
Nativity
More info on volunteering:
Construction - building the bridge, the nativity, and the city. decorating and taking down the city. This crew needs 25-30 people. Clint Rex is the City Engineer and supervises the crews for each task.
Kitchen - feeding up to 240 people takes lots of help.
Sanctuary - 12-18 needed for welcoming guests back to the 21st century.
Shopkeepers - all shops require at least one shopkeeper.
Townspeople - what is a town without people?
Nativity - Mary, Joseph, Shepherds (2 or more), Angels (up to 4), wise men 3-4 are needed each performance
Roman Soldiers - Rome's finest protecting the interest of Caesar.
Support Crews - Backbone of the behind the scenes people.
Clean up nightly 6-8 people nightly to help clean up city and kitchen
Costumes, make-up and beards-- townspeople, shopkeepers, Roman soldiers, Nativity cast all need help with getting period costumes on appropriately
Sound and light crew 2-4 each performance
Cider booth uses 2-3 adults and 4-6 youth
Hot chocolate for the town- 3-4 people
Parking -- no costume required 6-8 needed
Nursery Workers at least 2 adults each evening and possibly 1-2 youth as well.
Click here for more Bethlehem Walk information.
Click here for the 2016 Marietta Daily Journal Bethlehem Walk article.